equiXTREME Leather Balsam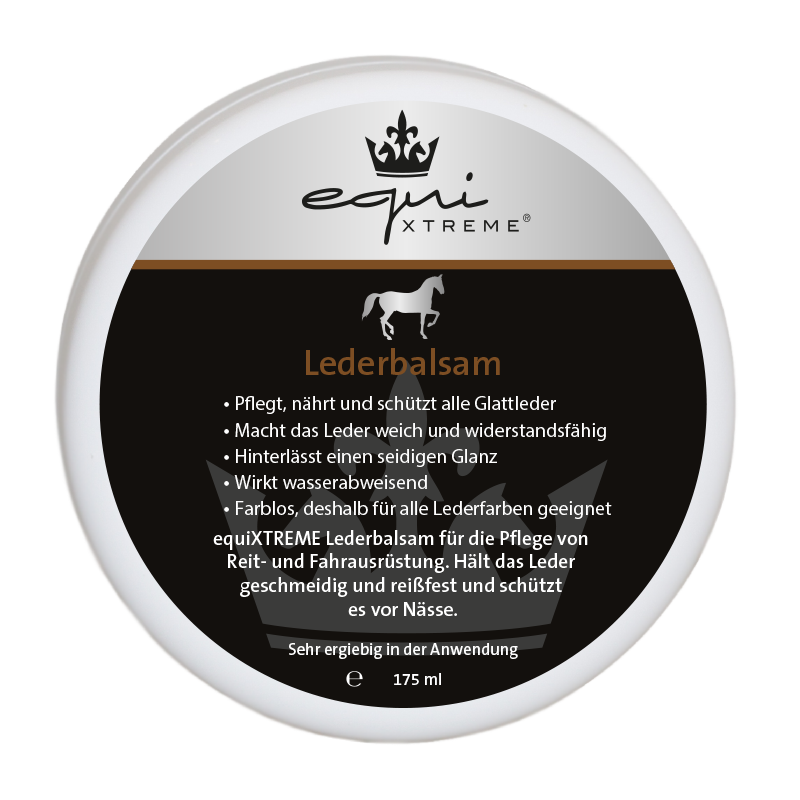 The equiXTREME Leather Balsam contains essential nourishing properties as well as high grade beeswax. Unlike most other modern leather cleaners, this leather balm also contains no glycerin, a chemical that will actually weaken the internal structure of the leather and eventually damage it completely. The natural formula nourishes the leather and keeps it supple. Beeswax protects it from water and sweat and leaves a natural non-slippery finish. Ideal for very fine or old and extremely dry leather.
-Nourishes and protects all types of leather
-Keeps the leather soft, supple and supports the internal structure
-Leaves a natural, non-slippery finish
-Forms a protective barrier to protect against sweat and grime
-Water-Repellent
Instructions for use: Apply the equiXTREME Leather Balsam with a sponge directly onto the leather. Wipe over and let dry for at least 10 minutes. Wipe over again if necessary to remove residues.
175ml
Currently in Stock
Our Price:
£12.95
Quantity:
Add to basket
There are currently no reviews for this product. Be the first to review by clicking below!
Review this product...
Every care is taken to ensure that your products arrive to you in perfect condition. We work closely with our Couriers (UK Mail) and our Pallet Freight operator ( Pallet Track ), to make sure that your delivery is prompt, and causes minimal interuption to your daily schedule. When placing your order, please notify us of any special requirements you may have. For example, If you have a secure place for a parcel to be left with out signature, please let us know.
For all of our large item deliveries, our pallet carrier operates a booking in procedure, giving you a rough time that your products will arrive. Please ensure you provide us with a phone number so they can contact you to organise this.
If you have any more queries about delivery, please feel free to contact us.
Although we keep a small stock of products, the majority of our items are made to order, so please allow 5-10 days for delivery. If you need your items in a rush, please call us, and we will do what we can to help.