equiXTREME Show Kit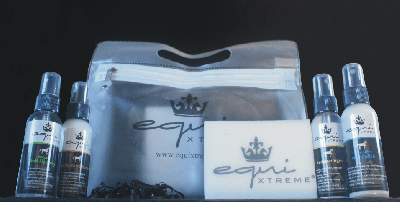 The equiXTREME show kit has everything you could possibly need for final show day touch-ups. Stored in a useful, attractive pouch with handle and zip, the show kit contains a bag of silicone plaiting bands, sponge, as well as samples of our Tack Cleaner, Tack Conditioner, Natural Anti-Fly Spray, Supershine Hair Polish, Mane & Tail Detangler and our Stain Removing Coat Whitener - all to ensure you get that high-quality, show-ring shine! These make an excellent gift for any competitor, and will soon become a staple item of your lorry kit that you find yourself reaching for every time.
equiXTREME Leather Cleaner
The equiXTREME Leather Cleaner removes Grease, Sweat and all kinds of dirt without the need of water. It doesn't affect the leather and the stiches. The use of too much water can weaken the internal structure of the leather.
The quickly drying equiXTREME Leather Cleaner is pH neutral and also removes bacteria and mold.
The ready to use mixture allows users to clean all those areas that are usually difficult to reach.
-suitable for all kinds and colours of leather
-cleans quickly without affecting the leather structure
-very effective, ready to use spray mixture
-no water needed
Instructions for use: Spray the equiXTREME Leather Cleaner directly onto the leather or a clean sponge. Wipe over and let dry. For the cleaning of very dirty areas, we recommend that you repeat the procedure and let the cleaner soak in for at least 5 minutes.
equiXTREME Leather Conditioner
The equiXTREME Leather Conditioner is specially designed for quick conditioning after the cleaning process. The ready to use spray mixture with Coconut-Oil-properties keeps the leather supple, adds abrilliant high shine finish and protects from environmental effects that can damage the leather structure.
-suitable for all types of smooth leather
-ready to use spray mixture
-conditions and protects
-adds a brilliant high shine finish
-water-repellent
Instructions for use: Spray the equiXTREME Leather Conditioner directly onto the leather or a clean sponge. Wipe over and let dry.
Can also be used as a 2-in-1 product for quick surface cleaning and conditioning. Anyway we recommend the regular use of our equiXTREME Leather Cleaner to keep the leather in perfect condition.
equiXTREME Hair Polish
equiXTREME Hair Polish leaves a non-slippery high gloss finish. Can be used on mane & tail as well as on the coat. Also great for areas where a standard coat shine spray can't be used due to it's slippery finish. Makes braiding mane & tails easy.
-immediate glossy finish for mane, tail and coat
-prevents grass and stable stains
-great for applying quarter markers
-no slippery finish
Instructions for use: Spray directly onto mane, tail and coat. For a perfect show finish wipe over with a soft cloth
equiXTREME Anti Fly Spray
equiXTREME Anti Fly Spray contains high levels of different natural ingredients. It covers the natural odour of the horse and thereby makes it uninteresting for insects to bite.
-gentle to the skin
-long lasting protection, even on the sweaty horse
-dries within seconds without any residue
-pleasant smell
-keeps flies, horse flies, midges and ticks away
Instructions for use: Spray evenly all over the body of the horse. Use a sponge or a soft cloth to apply it on the head and under the belly.
equiXTREME Mane & Tail Detangler
Excessive combing of mane and tail without using a suitable care product leads to hair breakages and the loss of huge amounts of hair. Our equiXTREME Detangler easily detangles even the longest mane and tail and makes it easy to comb without the risk of pulling out hair.
-immediate results, tangle free mane & tail, silky finish
-no greasy residues
-supports the natural hair growth
-also conditions the hands and nails of the horse owner
-prevents splits, hair break and the loss of hair
Instructions to use: For tanglefree and silky smooth mane and tail put a blot in your hands and gently massage into mane and tail. Results appear immediately and last up to 3 weeks. Can be used on dry or wet hair.
equiXTREME Stain Removing Coat Whitener
Based on the highly successful Vital White Shampoo, this spray is perfect for all light-coloured horses to remove all kinds of grass and stable stain instantly while simultaneously highlighting white markings.
Contains no bleaching agents or harmful chemicals and is pH neutral, so perfect for use on sensitive skinned horses too.
Easy to use & kind to the horses skin.
How to use: Simply spray onto the stained area, work in with a damp sponge to create a foam, and then wipe clean.
Currently in Stock
Our Price:
£15.00
Quantity:
Add to basket
There are currently no reviews for this product. Be the first to review by clicking below!
Review this product...
Every care is taken to ensure that your products arrive to you in perfect condition. We work closely with our Couriers (UK Mail) and our Pallet Freight operator ( Pallet Track ), to make sure that your delivery is prompt, and causes minimal interuption to your daily schedule. When placing your order, please notify us of any special requirements you may have. For example, If you have a secure place for a parcel to be left with out signature, please let us know.
For all of our large item deliveries, our pallet carrier operates a booking in procedure, giving you a rough time that your products will arrive. Please ensure you provide us with a phone number so they can contact you to organise this.
If you have any more queries about delivery, please feel free to contact us.
Although we keep a small stock of products, the majority of our items are made to order, so please allow 5-10 days for delivery. If you need your items in a rush, please call us, and we will do what we can to help.