With the Olympics now over, I think it's safe to say that the entire nation feels full of pride for what we have achieved during this games. And with 67 medals and countless world records, its easy to see why! Our equestrian teams especially wowed us all, with Nick Skelton's awe-inspiring winning round and Charlotte Dujardin's emotional last Olympic ride on Valegro, which can only be described as poetry in motion. Our eventing team had to work hard to secure 5th place, especially on the cross country course that was causing chaos for everyone. However, one individual who breezed round the course was Camilla Kruger, who was there making history as Zimbabwe's first equestrian at her first ever Olympic games. Also based in East Sussex, and less than 20 minutes away from our workshops in Lewes, Camilla came to visit us in June asking for a favour. As these were her first games, she needed some mobile tack lockers to store all of her horses (Biarritz II, also known as Sam) kit in that could fly with him to Rio. Coming from humble beginnings, Camilla was after a cheaper, factory-second or ex-display locker.

Now, we couldn't allow her to go to her first Olympic games, making history and representing her country with a hand-me-down now, could we?! So, plans were launched to design and make Camilla her very own set of bespoke lockers. Sitting down with Camilla, we went through the tack she would be taking, what items of hers needed to be kept in the lockers and any other requirements that she would need, such as what height the lockers would need to be to fit onboard a plane. We then took a look at the aesthetic aspect of it - what colour she would like them to be and what images she needed on there.
The production seemed to fly by, and our team were very excited about making something that was going to the Olympics! All of our products are handmade and handled with the same level of care and attention to detail, so we had absolutely no doubts that Camilla would be impressed. After being made, they were then coated in red (her cross country colours) before the finishing touches to the inside could be screwed and slotted in - shelving, a mesh drawer for odd bits and bobs, a couple of bridle racks in our 'three day event' design, saddle racks and even a hanger for her tailcoat! We then had Scantech (the company we work closely with for all our printing and promotional material/banners etc) come out and put some vinyls on the locker. We had designed these with Scantech & Camilla's help to included her logo, flag and the Rio 2016 artwork too. With this, the lockers were done and ready to give to Camilla!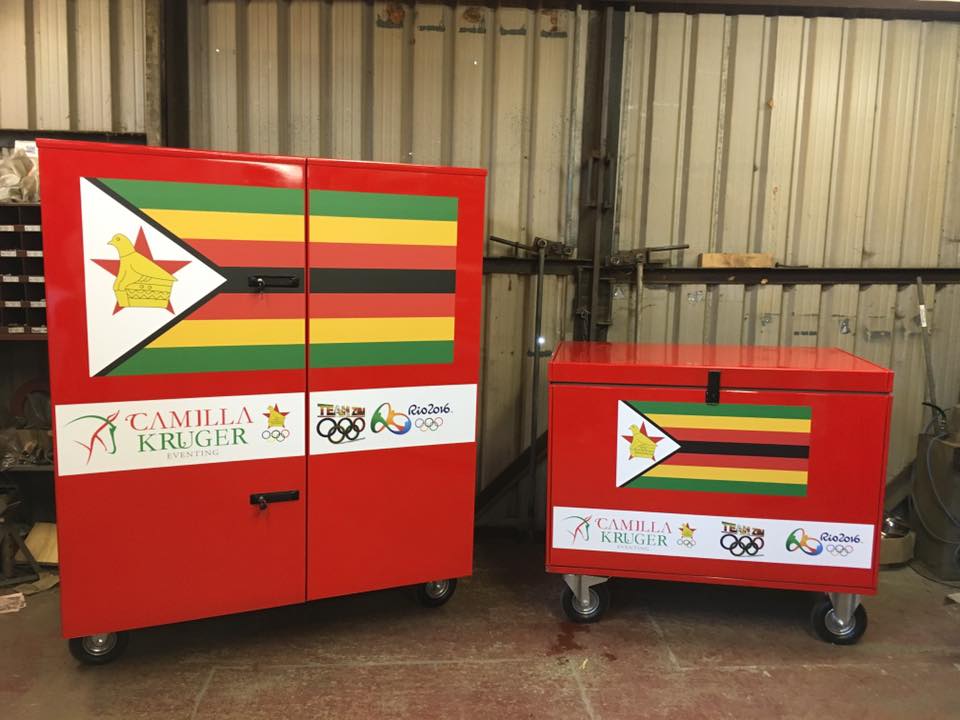 A couple of days before they were due to be handed over, we had a message from a very worried Camilla, saying that the airline company had given her the incorrect details, and that the larger locker was subsequently about 1ft too high! After a bit of thinking, we decided to adapt the wheels to allow the locker to sit that bit lower. Less aesthetically pleasing, but much better than Camilla's plan to simply push the locker onto its side! So, a quick reconstruction and they were good to go.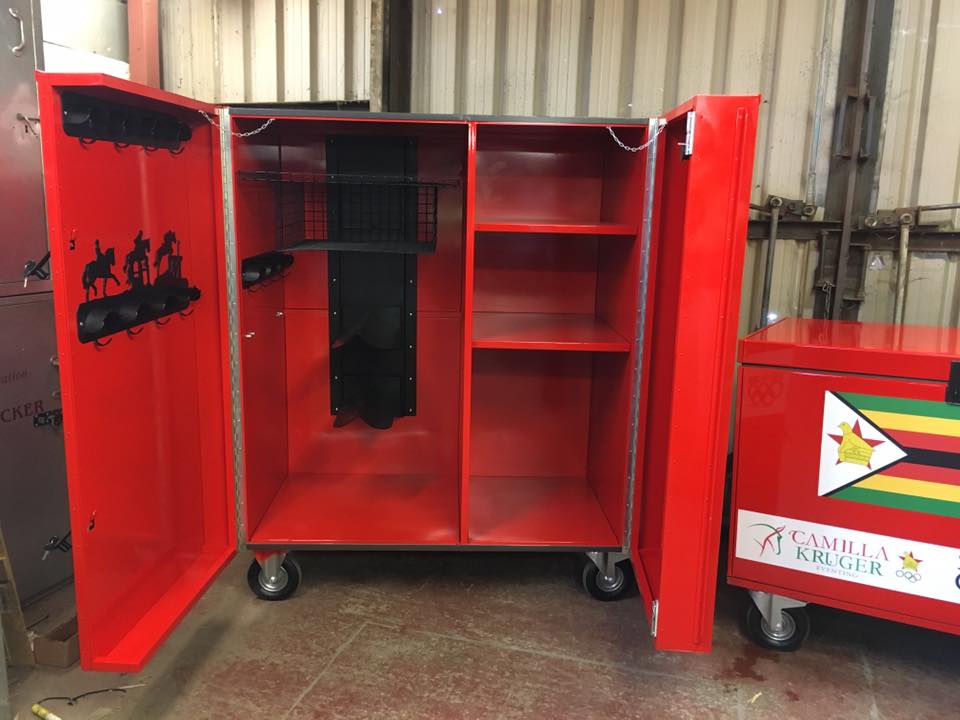 The next day, we arrived at her rather beautiful yard with the lockers in tow. We had already disinfected them for her (anything that entered her yard had to be sterilised beforehand, due to being on Olympic quarantine) and ensured they were safe to travel, in a protective casing. Both Camilla and her groom Fay adored the lockers, and so we were delighted to see them happy.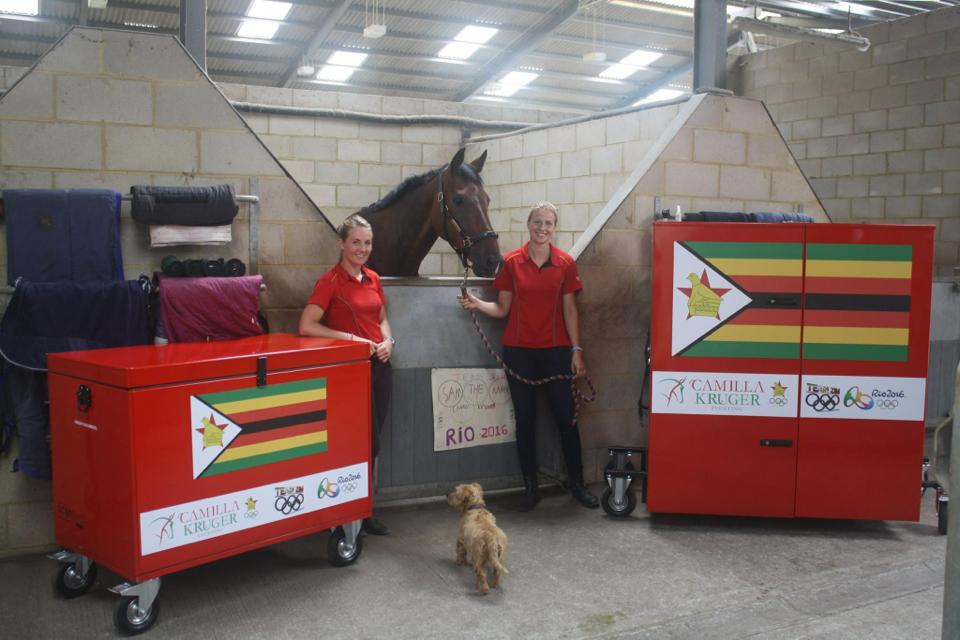 After a morning of tea, cake, and BBC interviews, we left Camilla's ready to cheer her on in the weeks to come. And it wasnt long before they were on their way! Social media went into quiet concern about Sam's wellbeing, as this was his first time flying, but we were relieved to hear that both him and Fay had both arrived safely and without a glitch at Rio.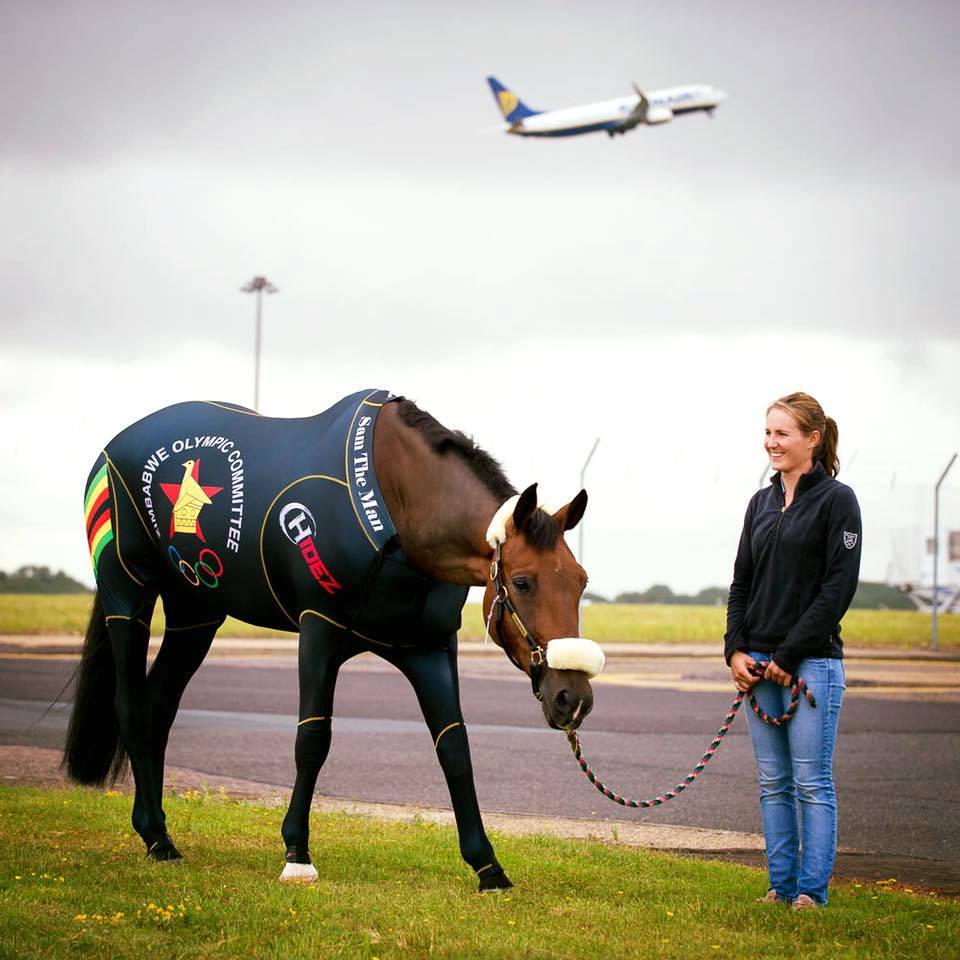 Sam settled in well, and after a couple of days of familiarisation and schooling, he was ready for what the cross country course had to offer. Let the games begin!
The rest is - quite literally - history! Camilla and Sam produced a lovely test, were one of the only few to go clear cross country and had just a couple of poles down showjumping. They have done Zimbabwe proud, and we are incredibly proud to have donated her the lockers and been a small part in her Olympic journey. We have no doubts that she will be at Toyko in 2020, and we look forward to seeing her there!